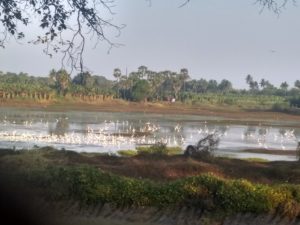 Celebrated to raise awareness about the need to protect migratory birds and their habitat, World Migratory Birds Day marks a global effort to confront the threats faced by migrating birds.
Migrating birds make long and arduous journeys across the skies of various continents often coming from as far away as Europe. Due to the strenuous nature of their journey, they frequently make stops to refresh themselves before continuing on toward their migratory destinations. Sterlite Copper's green-belt in Thoothukudi, which spans over a vast area of 43 hectares,  plays host to one such rest stop where a plethora of lovely birds make a pit stop to visit our water reservoir. In fact, Thoothukudi itself is a famed destination for migratory birds from all over the world to stop at.
As per a Hindu report, the Tamirabharani Waterbird Count (TWC) that concluded at the end of January, 2019, recorded as many 39,231 birds belonging to 75 species. This census covered water basins in Thoothukudi district as well as in Tirunelveli. The Arumugamangalam tank in Thoothukudi had 45 unique species of birds visiting to quench their thirst and splash around before continuing on their migratory travels. Even Srivaikundam region in Thoothukudi saw an enormous concentration of bird visitors along with water tanks in Perungulam as well.
Birds like the Northern Pintail Duck (a visitor from Northern Europe), Lesser Whistling Ducks, Garganeys and Flamingos, Egrets, Cormorants and Waterhens were spotted during the census. It almost feels surreal that our little town in Thoothukudi sees so many beautiful birds visiting each year. If you missed volunteering at the TWC, you can plan a leisurely early morning ride or walk along the banks of the lake that lies between Pudukottai and Sawyerpuram. You will be pleasantly surprised at the variety of birds that flock there. The lake glistens when the golden rays of the early morning sun hits the water on villagers casting their fishing nets alongside Egrets, Stocks and Brahminy Kites all of who swim around merrily splashing in the water and catching prey.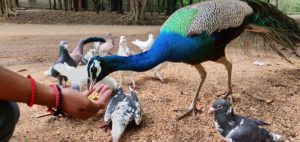 Thoothukudi, as a district itself, sees various species of birds apart from migratory birds. They are attracted to the water tanks present in the district. In fact, the Sterlite Copper township plays home to many flighty visitors apart from a considerable population of peacocks who have made the township their place of permanent residence. Our employees are often seen trying to make the environment comfortable for our winged fellow-mates by ensuring there are enough water sources constantly available as well as treating them to their favourite snacks and grains whenever they flock towards them.
On this World Migratory Birds Day, as we gear up for the hot summer months, we urge you to help resident and passing birds by keeping containers filled with water outside your homes and in areas where birds flock.